Monument, Howard, NY – Marcus Whitman and Rev. Henry Spalding
In 1836, there was some concern that Narcissa and Marcus could not go west.  Another couple in the party would be necessary so that Narcissa would not be the only woman.  After other couples had refused or been deemed unqualified, Marcus caught up with Reverend Henry Harmon Spalding and his wife Eliza Hart Spalding in Howard, NY in early February 1836 and persuaded them to abandon their plans to become missionaries to the Osage Indians in what is now Kansas and to go further west with him and Narcissa.
This would prove to be a bit of a problem, because a younger Henry Spalding who was born in Wheeler and educated in Prattsburgh, had proposed to Narcissa and she had turned him down.  Before even being asked to go with the Whitmans he had even commented "I do not want to go into the same mission with Narcissa Prentiss as I question her judgment."
He would make no secret of his anger about her refusal to marry him as they proceeded west, making the trip quite uncomfortable for the others and causing problems even after their separate missions were set up.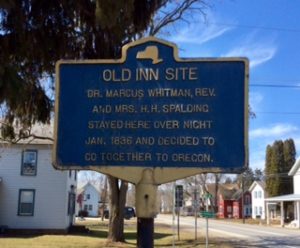 The photo shows the historic sign in Howard The text is:  OLD INN SITE Dr. Marcus Whitman, Rev. and Mrs. H.H. Spalding stayed here overnight Jan. 1836 and decided to go together to Oregon.
---